NATALIA GONCHAROVA
A woman and the avant-garde between Gauguin, Matisse and Picasso
Exhibition from 28 September 2019 to 12 January 2020
Palazzo Strozzi – Florence
www.palazzostrozzi.org
Natalia Goncharova (Governorate of Tula 1881 – Paris 1962) artist of Russian origins but of international vocation, was one of the first women to establish herself in the avant-garde panorama of the early twentieth century, as evidenced by the 130 works set up in rooms designed for sections that lead us, crossing them, in the heterogeneity of his gaze and his influences. She is active as a painter, costume designer, illustrator, graphic designer, set designer, decorator, stylist, but also as a film actress, dancer and performing artist ante litteram.
The layout of Palazzo Strozzi clearly highlights this aspect, as it creates a passageway between the various rooms, articulating it through the use of wall colors: gray for the artists who have had influence on his art and colored for the various seasons of its production.
For this formidable versatility and non-conformism you never get bored during the show. His paintings, his works are fascinating, colorful, intense, able to excite each of us in a different way.
He has exhibited in the most important European avant-garde exhibitions, in Munich, Berlin, Paris and London, while in Moscow he has participated in performances in which he has paraded in the most elegant area of ​​the city with his face and body painted with images and phrases intended for scandalize right-thinking people.
Defying public morality was the first woman to have exhibited paintings depicting female nudes, and for this she was accused and tried.
For over fifty years he lived and worked together with the artist Mikhail Larionov in a free and open way, coming to marriage only in the last years of his life and only to protect the common work. Hero of the Russian avant-garde, she lived as an exile in Paris to continue working without constraints.
We can also say that Natalia Goncharova has lived for art in a total and unconventional way, as we can well see in the works exhibited in the single rooms of Palazzo Strozzi, which have been prepared according to very specific themes: Looking to the West, Natalia's Russia, 1913: female monograph, Religion, The Great War, Theater, Modernism, Goncharova and Italy and finally After Russia, highlighted by a brightly colored installation, also using a graphic reworking of decorative motifs derived from his book illustrations.
The exhibition can be visited every day from 10.00 to 20.00, on Thursdays from 10.00 to 23.00 and will remain open to the public until 20 January 2020.
His famous phrases:
"You must believe more in yourself, in your efforts and in your rights before mankind and God; believe that everyone, including women, has an intellect in the shape and image of God "
"I am not afraid of the vulgarity of life, which I transform into artistic forms"
"The art of my country is incomparably deeper than anything the West knows"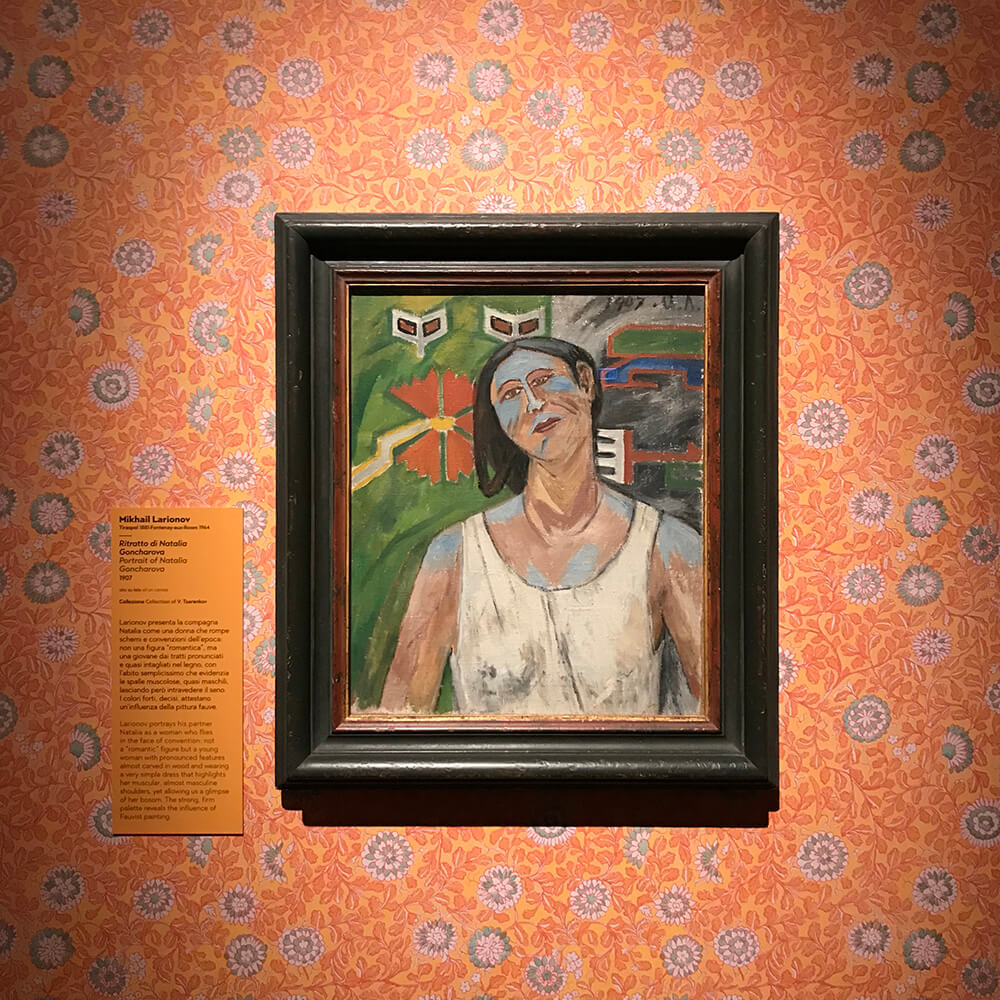 Mikhail Larionov
Portrait of Natalia Goncharova, 1907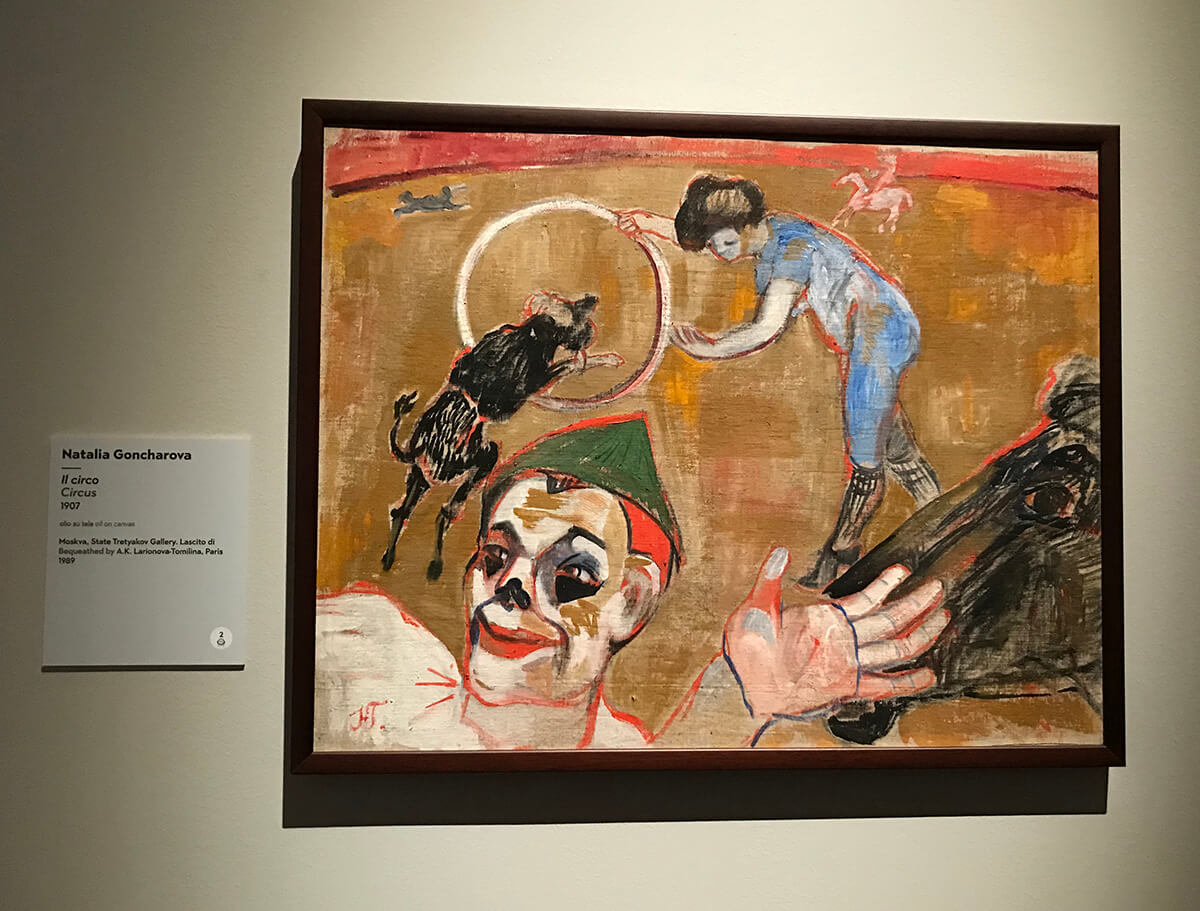 Natalia Goncharova
Circus, 1907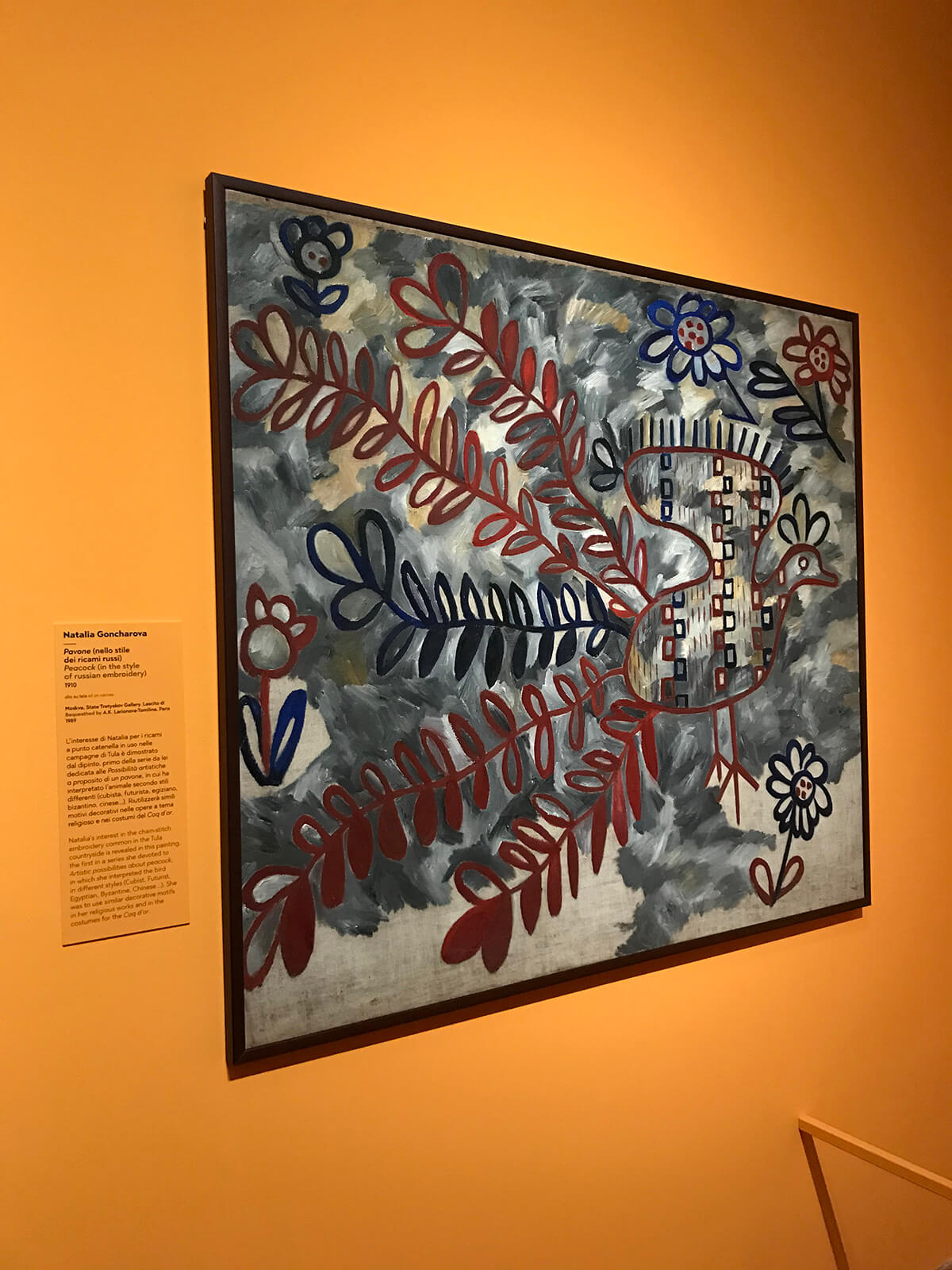 Natalia Goncharova
Peacock (in the style of russian embroidery), 1910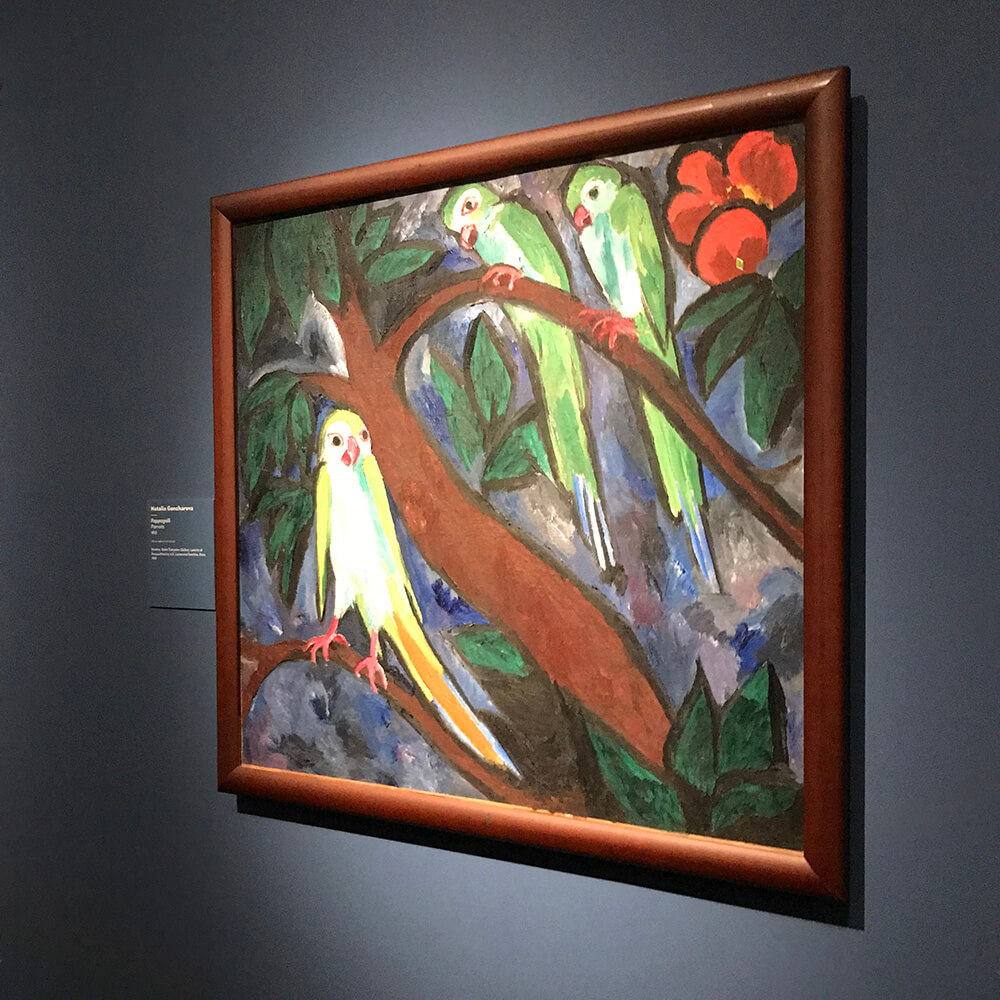 Natalia Goncharova
Parrots, 1910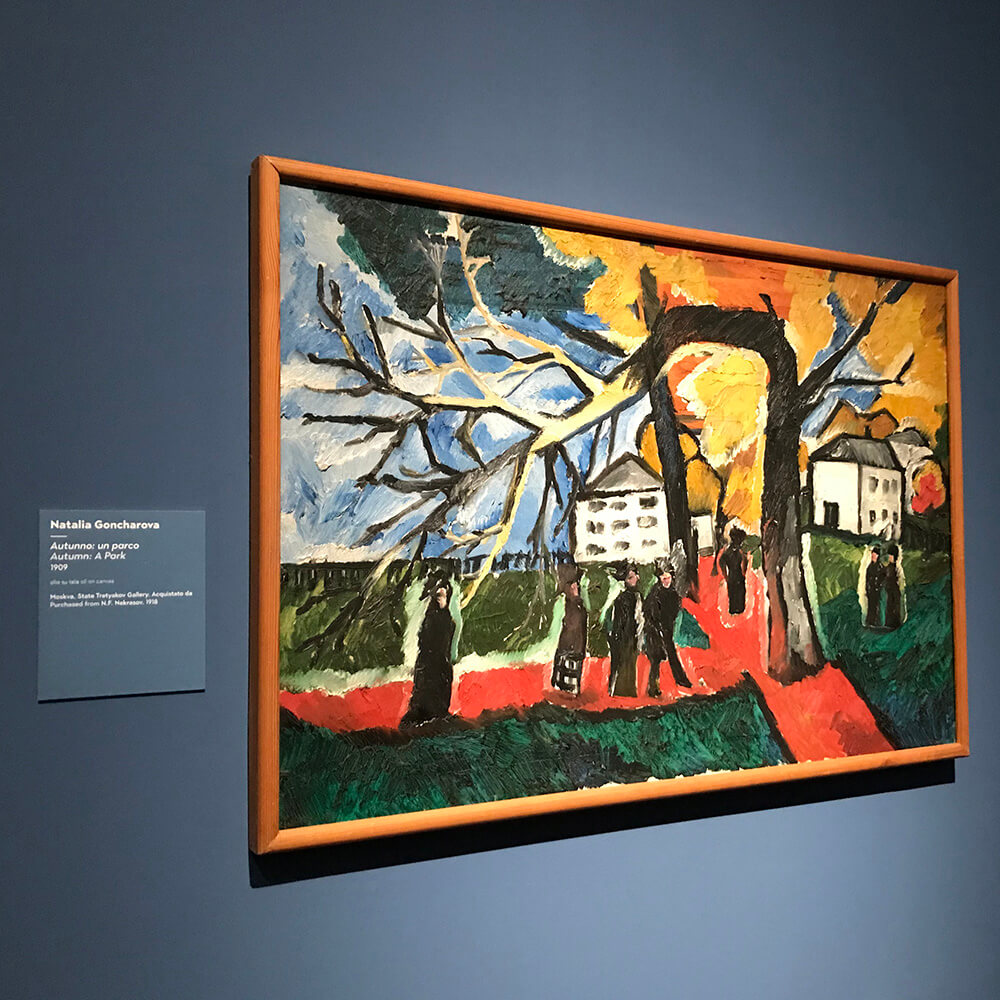 Natalia Goncharova
Autumn: a park, 1909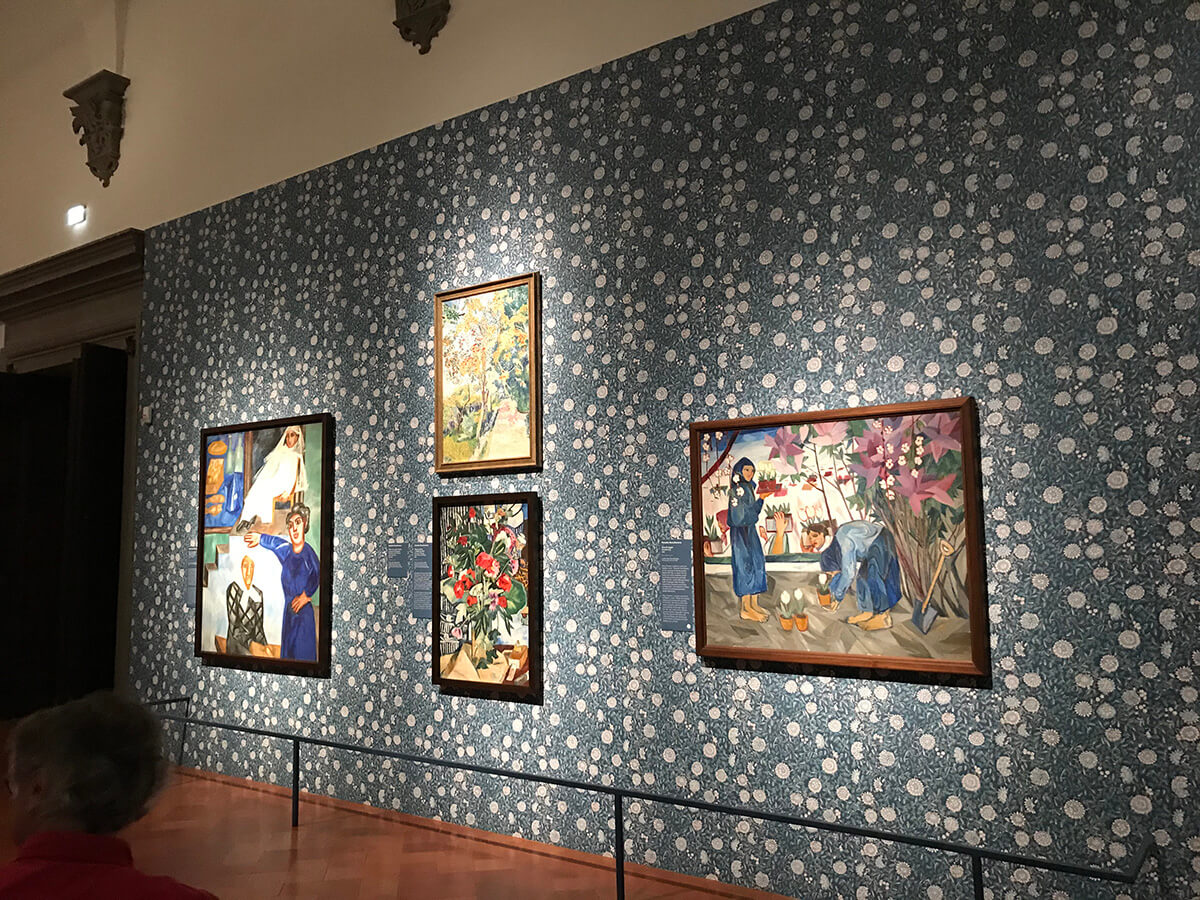 Goncharova's Works at the Tretyakov State Gallery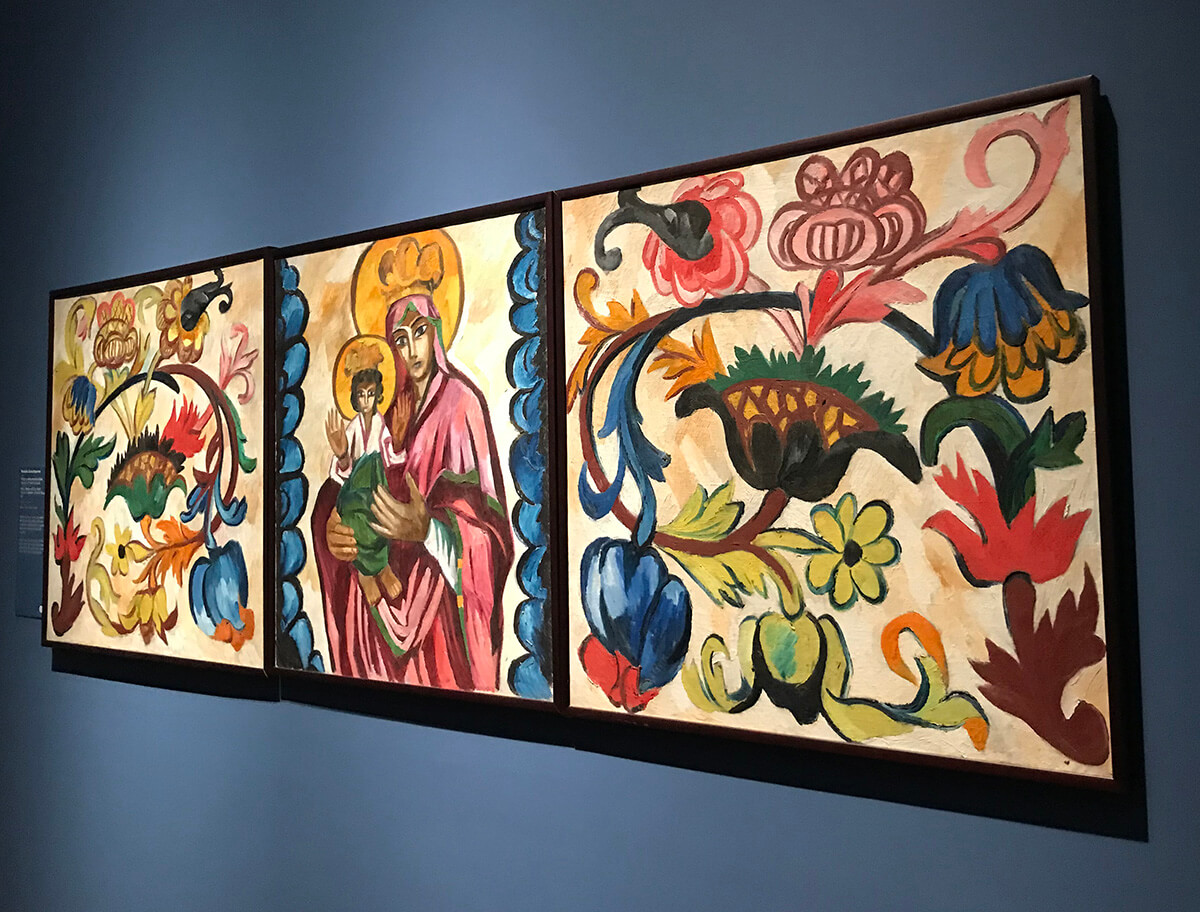 Natalia Goncharova
Triptych – Mother of God, 1911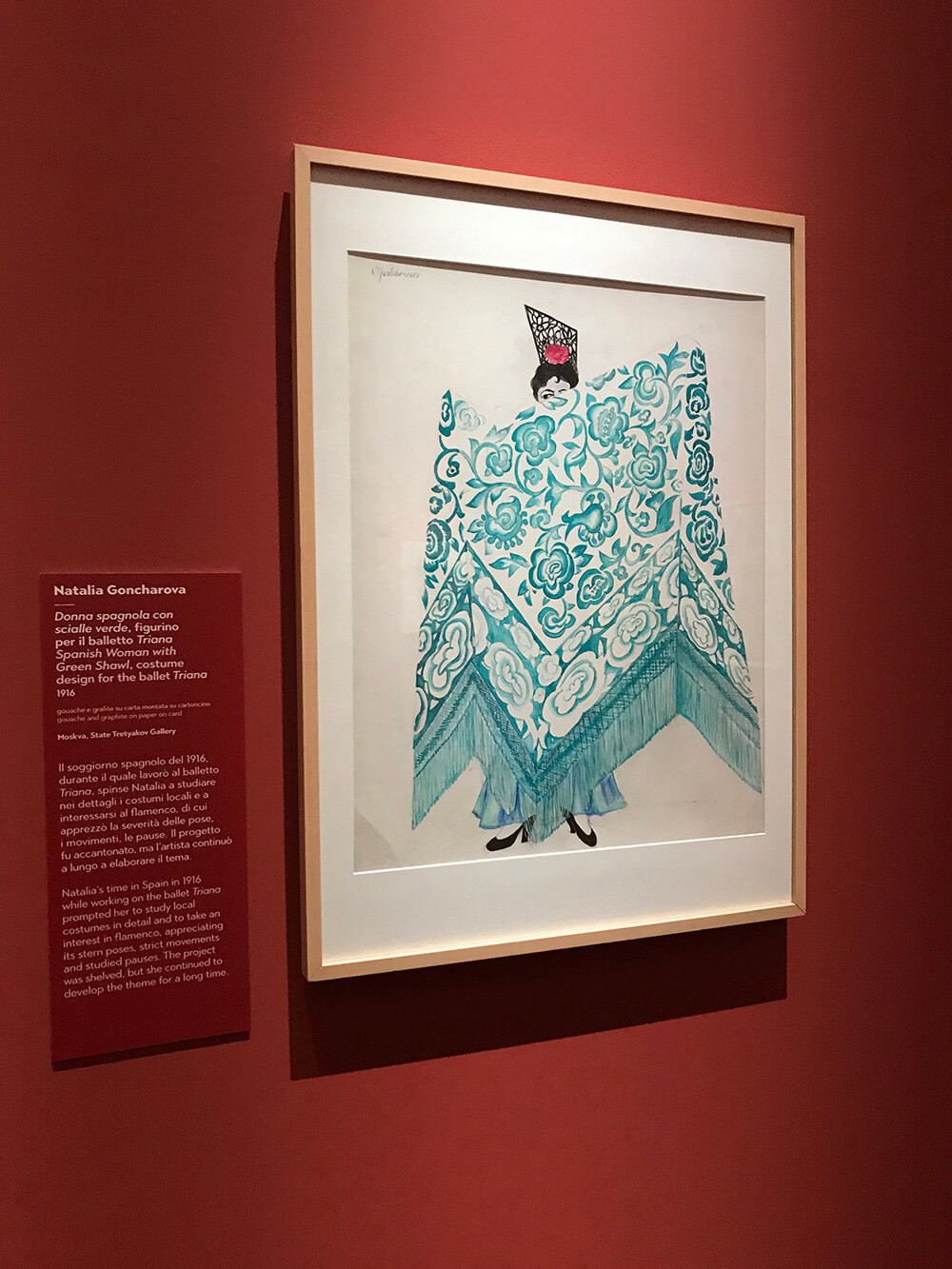 Natalia Goncharova
"Spanish Woman with Green Shawl"
Costume design for the ballet Triana, 1916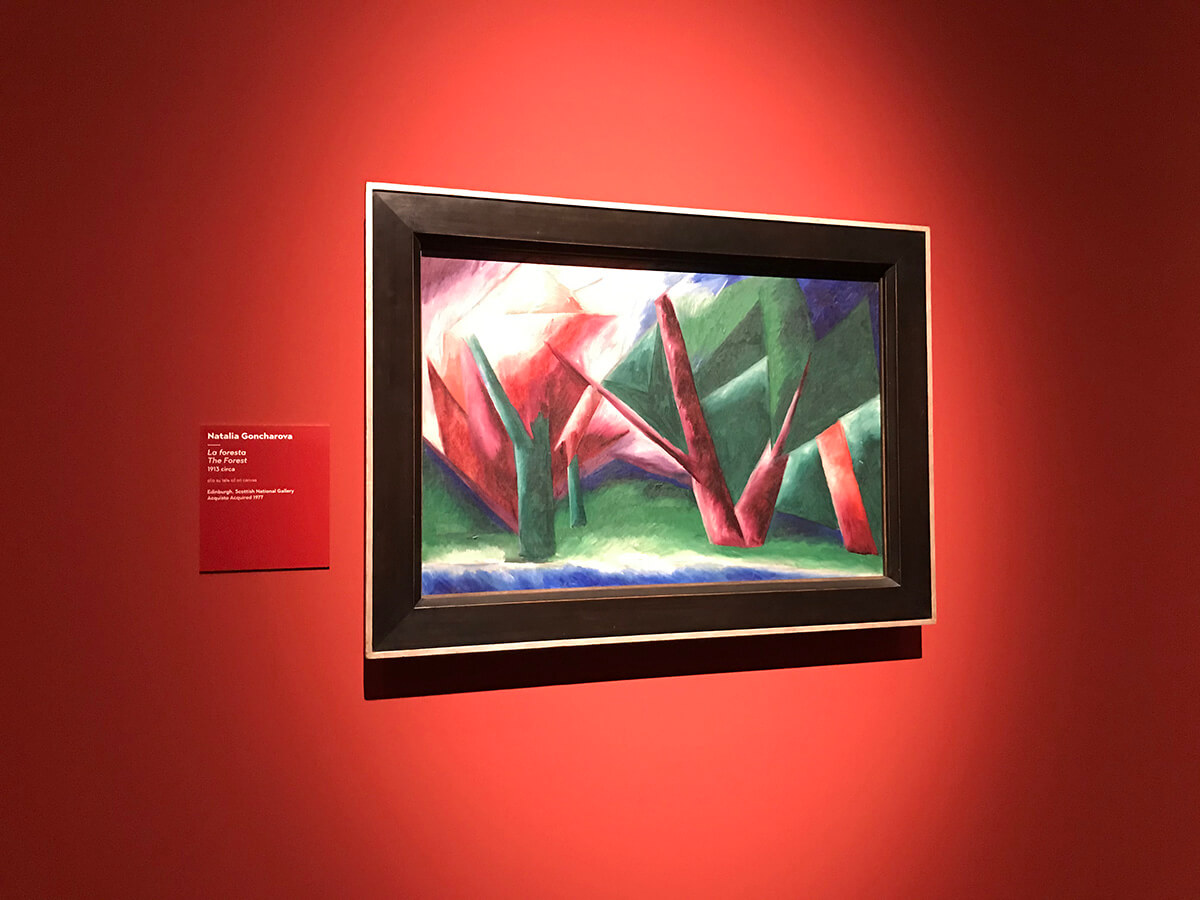 Natalia Goncharova
The Forest, 1913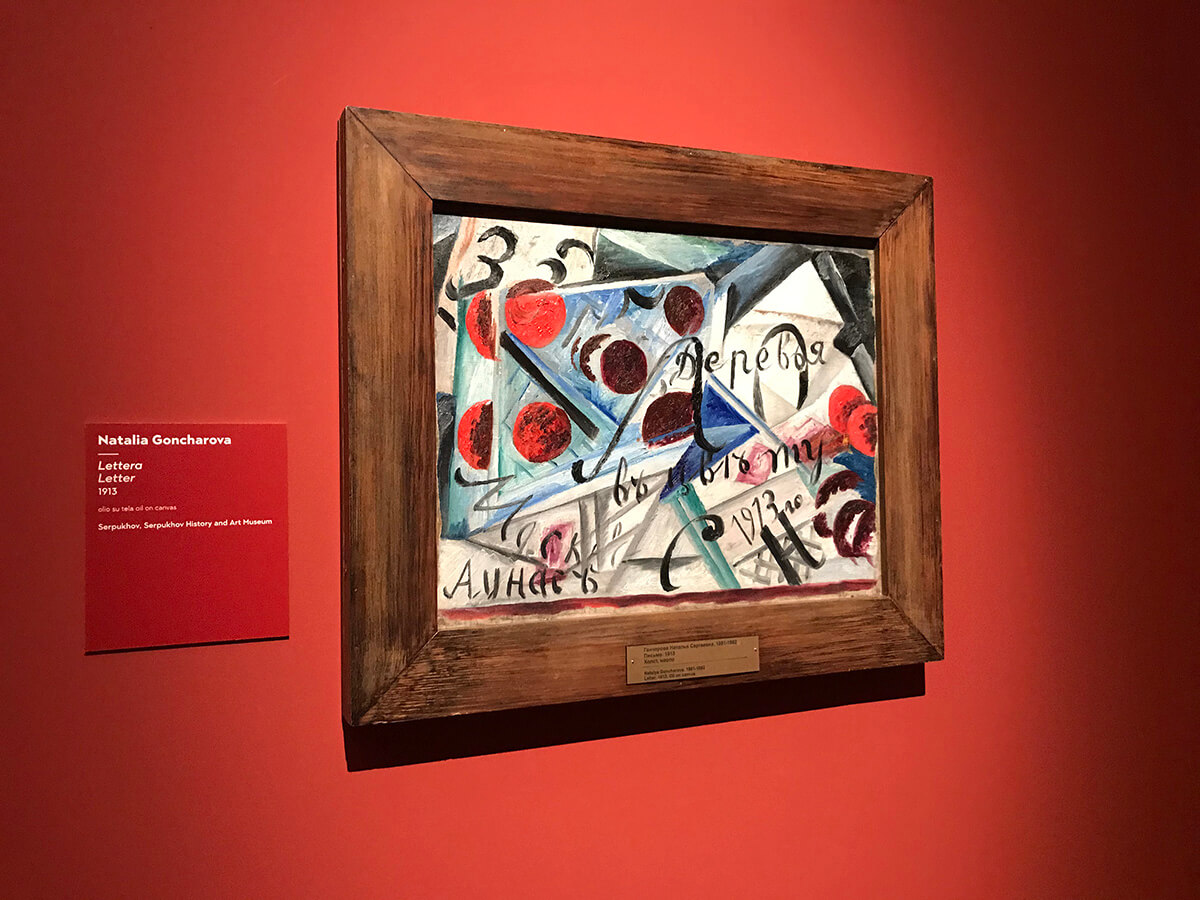 Natalia Goncharova
Letter, 1913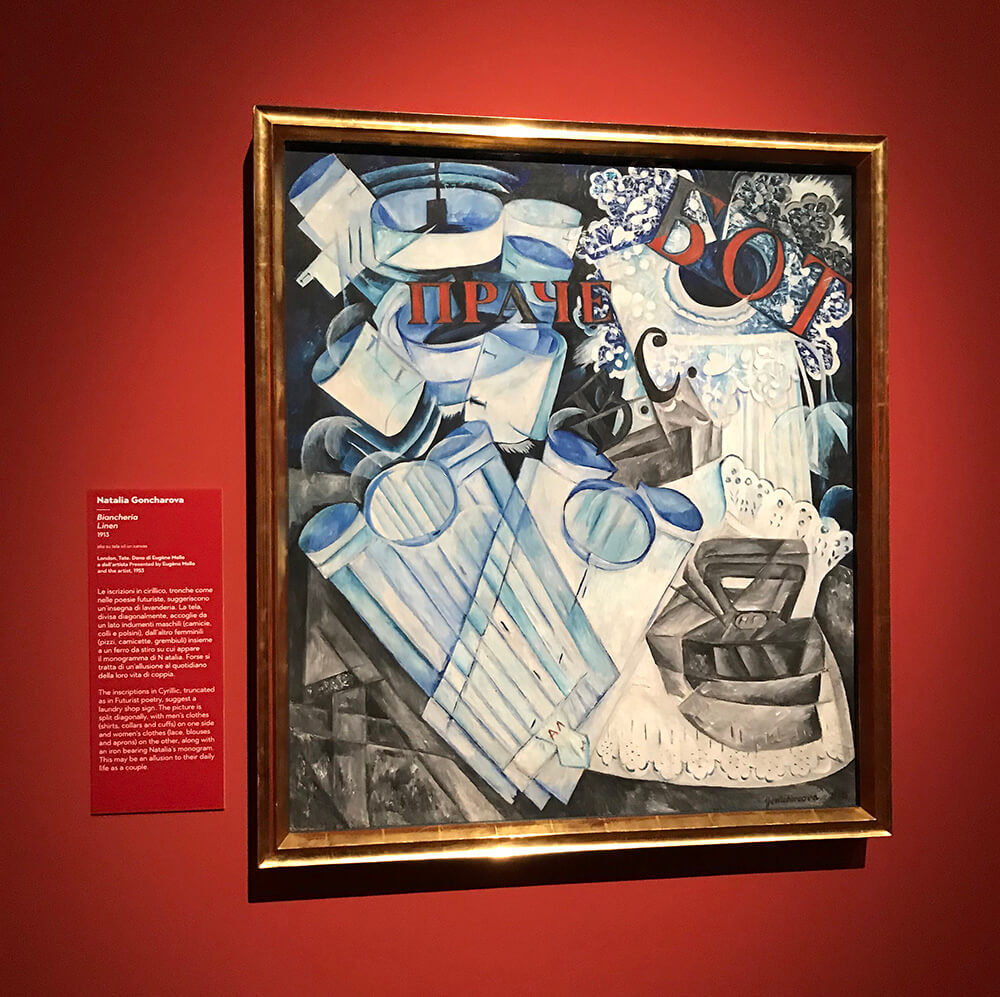 Natalia Goncharova
Linen, 1913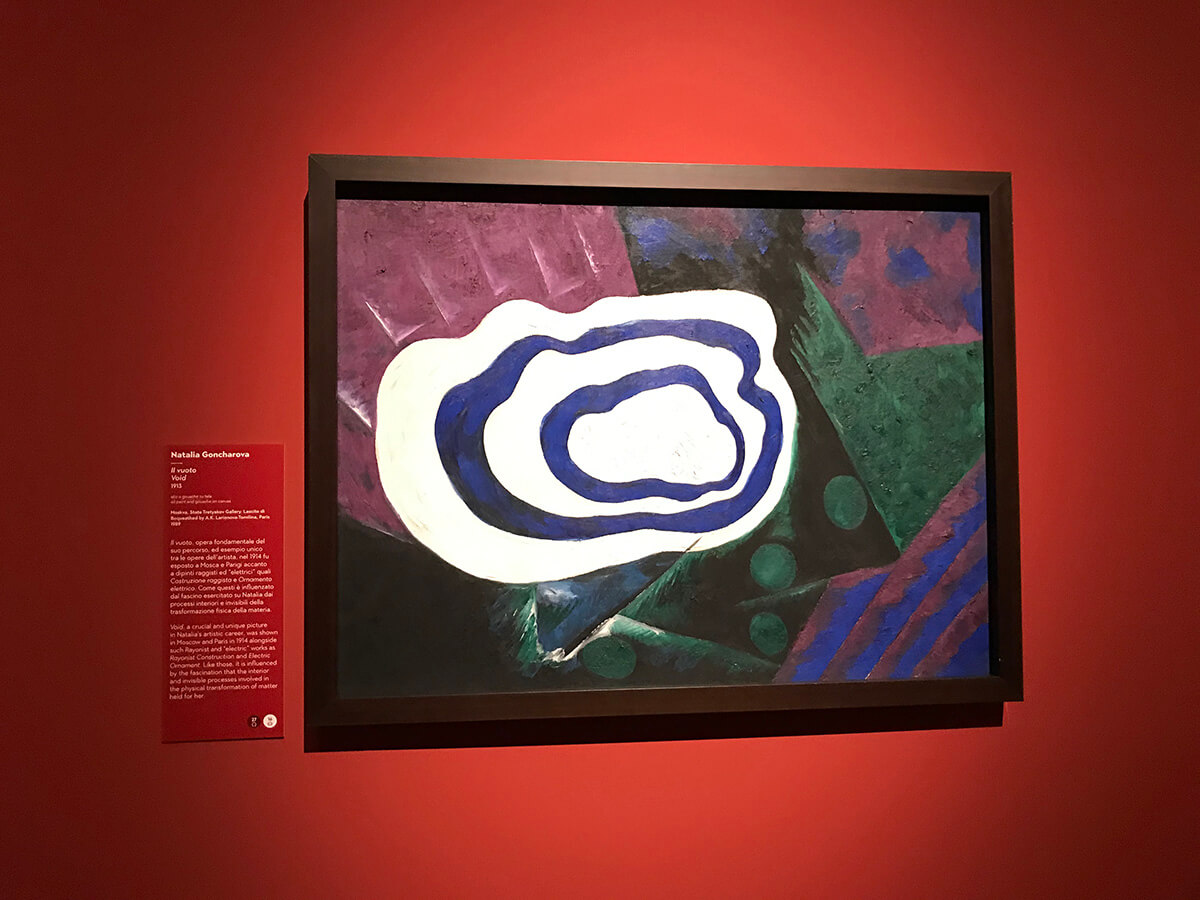 Natalia Goncharova
Void, 1913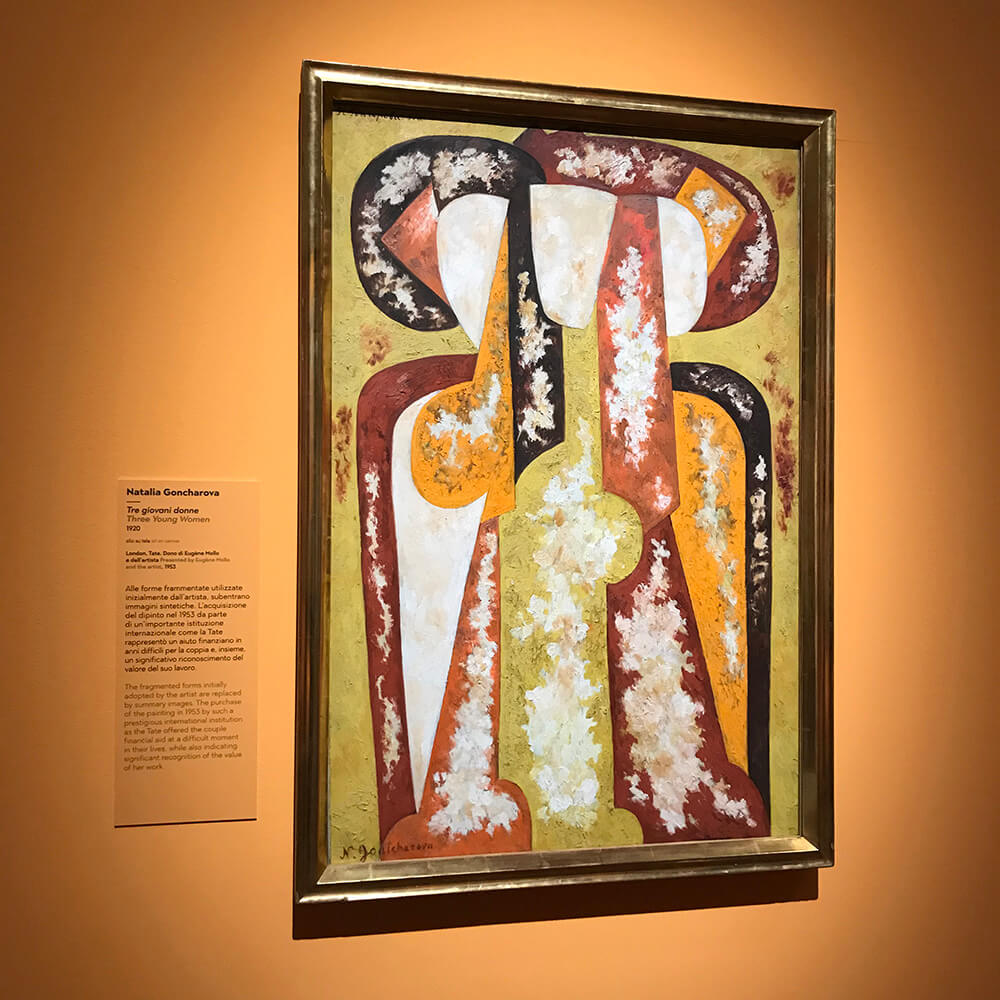 Natalia Goncharova
Three Young Women, 1920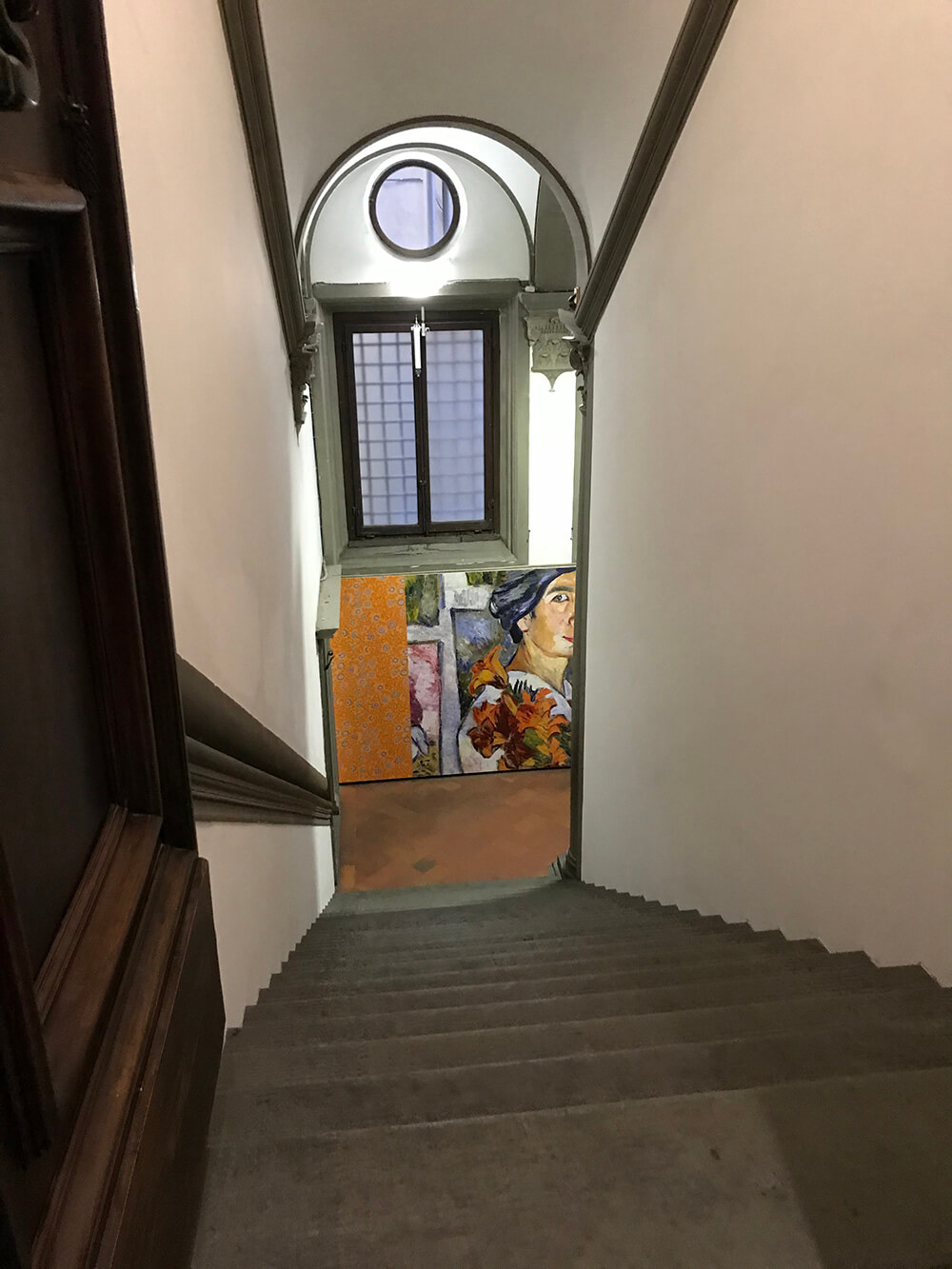 Thanks Natalia.

Exhibition Catalogue available for Guests of B.& B. DE AMICIS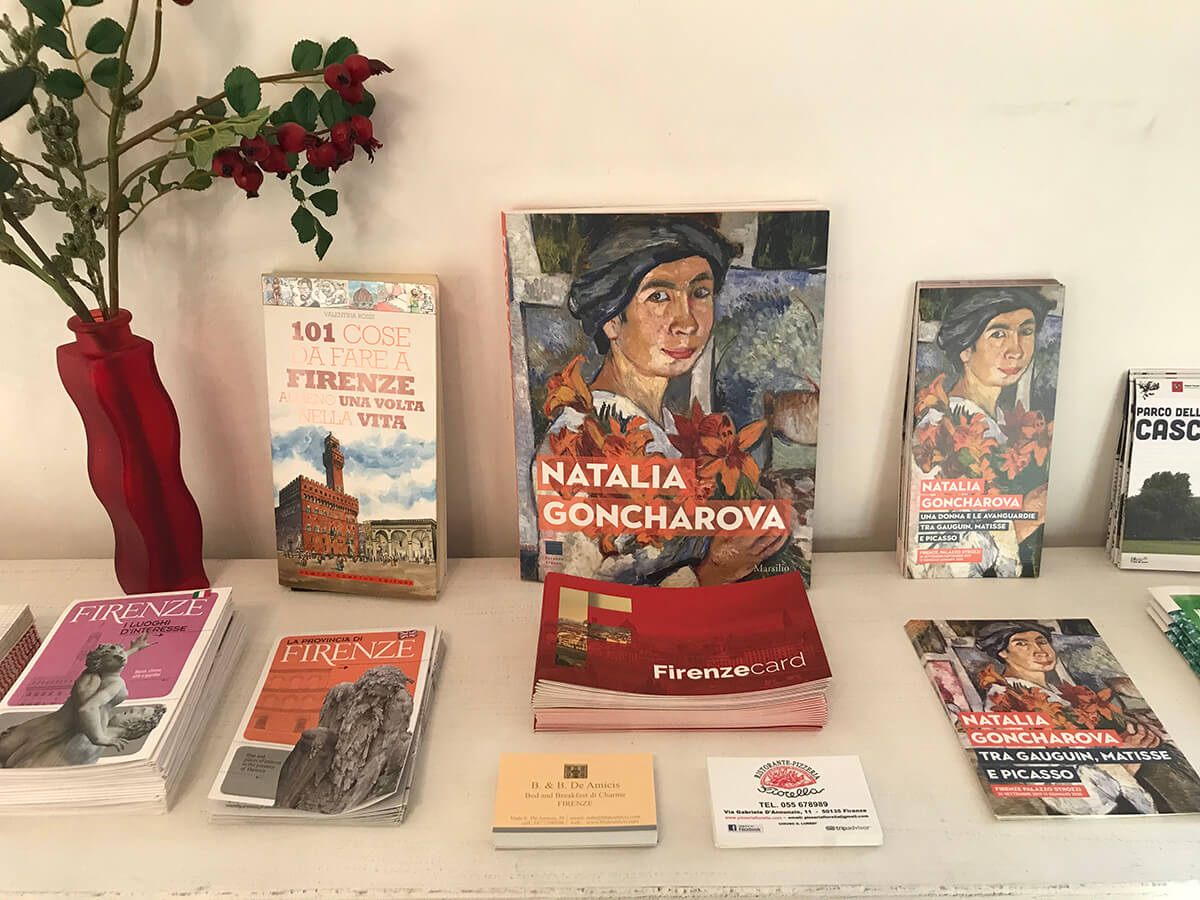 ---