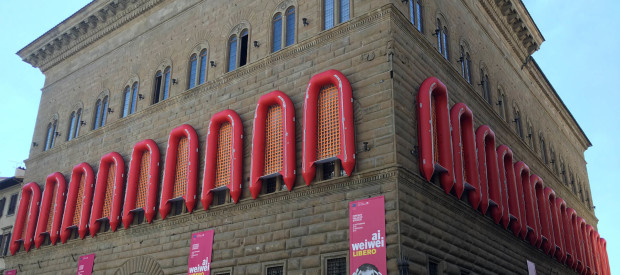 AI WEIWEI – Libero
From 23 September 2016 to 22 January 2017
Florence – Palazzo Strozzi
www.palazzostrozzi.org
Reduced price for guests staying at our B & B
FREEDOM 'IN ACTION.
"Creativity is the power to refuse the past, change the status quo and seek new potential. In other words, besides the use of their imagination, creativity is perhaps above all the power to act"
Ai Weiwei
From the end of this summer and until next winter, Florence becomes a destination for all those who love the Contemporary Art and Ai Weiwei, the Chinese artist, icon of the struggle for freedom of expression, and lately at the forefront for humanitarian causes and policies.
But Ai Weiwei is much more. Architect and artist, able to produce works by the great social impact, attracts and repels at the same time, because his installations always have a strong charge empathetic, whatever the theme represented. And in his case, his country is often the protagonist.
Strozzi Palace for the first time held an exhibition in the noble seat dedicating it entirely to contemporary art, and chose the most famous among its representatives. And also the most controversial and criticized. The Chinese artist AI WEIWEI, whose work has been the object of exhibition in many of the world's leading museums.
60 works and new productions inspired specifically to the Renaissance, and the city of Florence (see 4 portraits made with Lego depicting Dante, Filippo Strozzi, Savonarola and Galileo).
His art and life philosophy are a symbol of the struggle against any kind of censorship.
For this reason, this extraordinary exhibition will charming for those who usually do not like contemporary art. The works by Ai Weiwei are beautiful to see even artistically. They have an innate elegance and are always the result of high craftsmanship work. It could not be that Florence, a city famous for the refined and precious Artisans and the Great Artists of the past, to give the great Chinese Master his first Italian Exhibition.
The exhibited works range from his years living in New York 1980s and '90s, when he discovered his Masters: Andy Warhol and Marcel Duchamp, to the large iconic assemblages works from the early 2000s consisting of objects such as bicycles and stools, of political dissidents built with LEGO bricks, and his projects on migration in the Mediterranean region.
Ai Weiwei has also become a symbol of resistance against censorship. The show offers the opportunity to explore Ai Weiwei's creative genius but also to understand his personal narrative, offering critical insight to Ai Weiwei's ambiguous relations with his native China. Ai Weiwei denounces the inconsistencies and gaps between the individual and the community in today's world and has a profound sense of belonging, as illustrated by his use of traditional material and techniques. Equally, a strong sense of rebellion informs his interpretations of traditional Chinese images and metaphors.
Catalogue of the Exhibition available for our guests of B. & B.
---